TGIF
T
hank
G
od
I
t's
F
riday --- reminds me of my usual hang-outs with my friends when I was still in the phils. -- but that was already a looonnnngg time ago and by the looks of it (watching TFC) nightlife has drastically change in the phils. (that....I have to see when I go there in April :)) a lot of new places and restaurants to go to and nice shops as well --- oh yeah, I miss the big malls there where you can find everything you need --- did I mentioned the many Comfort Rooms too -- yes, it's so comforting coz it's everywhere, guess it's one of women's vanity to go the CR often -- to either freshen-up or do your regular ritual ...yunno what i mean :) --- Holland is the complete opposite --- you have to scout for CR all the time (guess I can make separate topic about that).
Anyway, what I'm really trying to say here is that we make sure we go out on a friday coz that's normally the last day of work ("normally", I said ...... that is for people who works from Monday to Friday ---- contrary to me...and to some, who still have to work half-days on saturdays. Yes, we do work hard so we only deserve a night out :).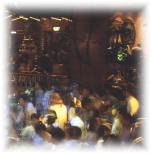 Zu, a basement club at the Shangri-La Hotel, Makati....a very memorable place for me and my hubby :)

Hard Rock Cafe in Makati....one of the many places I visit with my friends.

Ok, going back to TGIF, though I don't really do that here in Holland anymore --- for obvious reasons that I have now kids and family to attend to ---- things have changed. I cannot live like how I used to --- as a single person. But then, we spend our time with our family and we make sure that we do something together with the kids......and It's always fun, we love going somewhere (if hubby is not so busy with work :)) and the kids love swimming and shopping (ok, more like playing around in the shop --- well, they do listen, mind you :)).
Last friday was a free day for my kids (they have what they call "studiedag" (trans: study day) for teachers so, it's a free day). I already arranged it with my good friend and we went there to visit them --- and yes, it's a friday and it's shopping time!
V&D (
http://www.vroomendreesmann.nl/
) was in big (really BIG) sale and I was in total loss ---- you can buy anything (that's in sale) for 1 or 2 euro --- some were even 0.50 cents.....now, that's what I call shopping -- hehehe :) ---It was nerve-cracking coz I dunno what to buy anymore (i have that when I see so much :)) ...I guess, it makes me tired looking and digging for things (when I said digging then that is a literal meaning :)). Anyway, I was still able to buy a couple of things for yunno "pasalubong" when I go to the phils.
We had a nice day (me and my hubby felt like it was saturday already :)) but most importantly, the kids had a great day as well --- they were so tired and they all slept in the car --- when we arrived home, they immediately went to bed.
Now, I would say,..... until next time then :)