And off to Antwerp (Belgium)
We went to Antwerp yesterday with our good friends (yes, together with our batallion of kids :))
We left early (like 7am) so we can avoid the busy parking lots and of course...the busy shoppers :) ---- it was freezing cold ( -2deg) and as usual, I was not prepared for the cold expecting that it was a shopping mall like that in the Philippines ---- yes, there was a little mis-communication there (my hubby kept on teasing me though :)) --- we were already thinking that we can't shop so long with all our kids in this weather, my eldest daughter was already complaining about her cold feet (I could imagine how she felt coz I had that too --- my socks are pretty thin as well so, I can really feel the cold sipping-inside my shoes)
I should have known that it's always an open shopping here and in the rest of europe :) So, to those who are not familiar to Antwerp ---
"Antwerp has various shopping areas and centres situated in the many pedestrian streets and precincts. One of the largest shopping centres in Europe and is also known for its open markets such as the Bird Market and the Antique Market."
It's still winter sale here and we went shopping crazy --- just seeing those known (branded stores --- like Benetton, Mango, Esprit and so on) with a sale of up to 70%. Yes, they are affordable (meaning, I would not feel so guilty buying them coz they are now priced the same as the "not" branded ones --- better yet, even cheaper) -- I was able to buy enough for my new wardrobe :).
My friend and I should thank our "better-half" for being generous (well, yunno what I mean :)) and yes, for being so patient (especially when we're busy digging on those sale items --- ok, not literally digging :) --- they are hanging nicely though) and for just being with us and our kids --- out there in the freezing cold antwerp :) --- in fairness, the weather became better eventually around lunch time (6deg) so, it was then perfect for shopping.
Long day....even longer for my dear friend coz I heard from my hubby that they stayed longer there --- You bet, she can't leave the winter sale :)....maybe a summer sale next time :).
All five kids with us shopping ..... well, they were pretty behaved, I would say :) --- my 3 kids are the ones in the middle and the other 2 are my dear friend's kids.

Our "better-half" now, should I say more...they seem to like shopping with us, don't they :)

My dear, dear friend.....she can't still believe she's out for shopping surprises --- and it shows from her smiles :)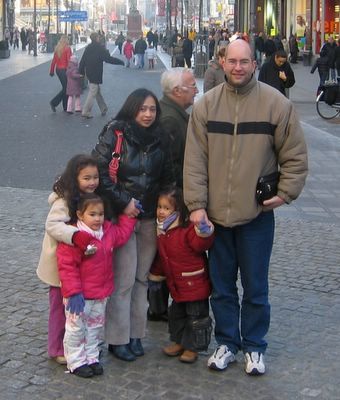 Our family picture ---- just ignore the old man passing by (behind us :))

My friend's kids at the big stone-hand (sorry, but I dunno if it's got a name or so)

My sweet hubby -- taking a break from all our (or shld I say "my" :)) shopping --- and look at the backgound --- you can see that it's getting busy with shoppers.