Im back!!!! fresh from the Phils.....
Yes, yes, yes.....Im back from my 2weeks vacation in the philippines. Rather short, I may say, but it was a wonderful vacation ---- I was able to be with my family back home, see my ever loving and loyal friends and do lot's of shopping!!! (though it's not that cheap anymore in the phils as it used to be, lot's of things are still cheaper there than here in holland).
My Parents were outrageously happy to see us --- much more to see my daughter, they were definitely entertained by my daughter who never felt shy performing around them --- she was dancing, singing and modelling around ---- she played a lot w/ all her cousins and she doesnt wanna go back to holland that quick anymore :)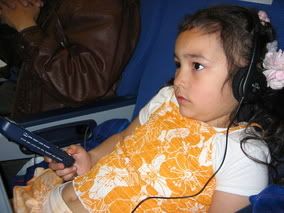 This is my daughter when we are on our way to the phils...she's busy watching movie and playing games in the plane.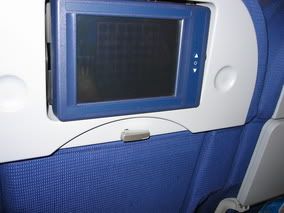 When you fly with KLM everybody has it's own tv/monitor (as shown) and you can absolutely choose what you want to do --- from watching movies, TV series to playing games ....yes, even on economy class --- cool huh! :)

My one and only nephew (yes, we are definitely a family of girls :)) and my nieces (daughters of my youngest sister) when they picked us up in the airport --- you can see that my daughter already feels comfortable around her cousins.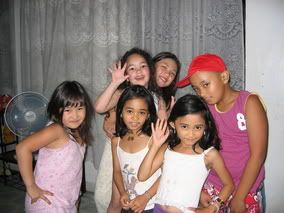 My daughter with her cousins.

She's the eldest daughter of my youngest sister ---- only 10 yrs old but she's taller than me ---- even her feet are bigger than mine, my golly! how time flies.... :)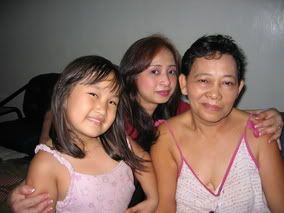 Me with my mom and the other daughter of my sister.....you can see how my mom changed after her stroke, she is still on a wheelchair but she promised that she will try exercising her legs more so she can finally walk again ( her doctor says there's still hope for her to walk, she only has to have a willing mind) .....I hope she keeps her promise so the next time we go back there, she can already walk again.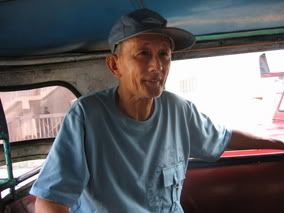 My ever loving Dad...you can still see how "gwapo" my dad is even when he's older now --- you should have seen his pic when he was a lot younger --- with his typical hispanic features.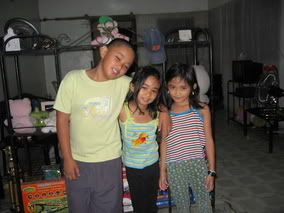 The 3 kids of my only brother (he's the only one blessed with a son, the rest of us have all daughters).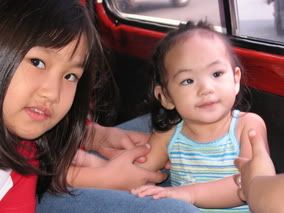 My youngest sister's daughters, the one on the right-side is her youngest.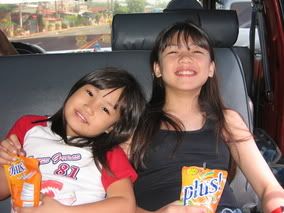 Still, the daughters of my sister, the other one here is her eldest daughter.
My "ate" (our dentist in the family aside from my father, of course) is based in zamboanga that's why she did not brought her 3 kids with her (by the way, her eldest daughter is gonna be in college next school year and will be taking up medicine)....and yes, she is trying on her new phone :)

Me and my youngest sister ....though im often mistaken as the youngest one in our family (probably because im the smallest one too :))....she's a homebody, you can really rely on her with anything that concerns cooking, cleaning....and taking care of kids :) ---- she's my chat-buddy --- we chat almost everyday..... "Ate" on the contrary is busy with just everything but still get to chat with her once in a while :)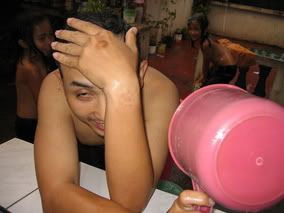 My one and only brother who doesnt want his picture taken so I just have to settle with his snapshot pic I took while he was "taking a shower" (dunno how to call it really :)) in the rain with his kids .....hehehe, this is even bad pic --- only if he allowed me to take his pic then he would have had a better one ----- next time then :)

These are my college friends (not complete bec some of them are out of the country and so)...yes, we still get in touch with each other after all those years (almost all of us are married and have kids now --- of course some still enjoy their single lives :) kudos to that :))....I get to meet them to dinner and after that we went out for a drink....not to get drunk coz we have kids with us so, we went to the coffee beanery until late at night --- even my daughter was still widely awake ---- she loves all the attention :) The rest of the pics are all from my friends whom I really wanna thank for spending some time with me.....You're all the best! I will be missing all of you....take care everyone.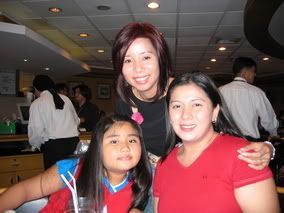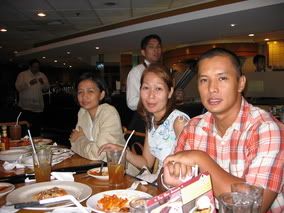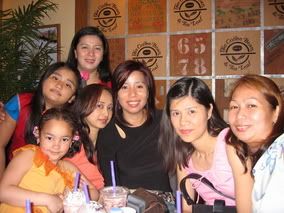 This is a pic of the new Robinson's mall in Lipa, Batangas. There are more places to go here now, they even have "The Library" a franchised comedy bar from manila --- looks like my old hometown is getting busier.....:)
>>> more pics coming up on my next post!!